This year has been the best year yet in my career when it comes to training. In my personal and professional opinion, there are three areas or fields of training that are all equally important and dependent on each other to help make a Law Enforcement Officer or Law Abiding CCW Citizen the most effective in the utilization of force.
The three areas or fields are:
1. Simulator Scenarios
2. Simunition Scenarios
3. Live Fire Range Training
What makes this year the best for me is that I have done all three already this year. I am always a proponent of training because we simply don't get enough in the Law Enforcement field unfortunately. Training is expensive and either takes officers off from work or incurs overtime. Once an officer graduates from the academy, the training they receive is minimal, especially in the use of firearms.
Firearms training is extremely important because I'm responsible for every round that I fire. Most importantly, if I don't stop a threat with accuracy, I can be wounded or killed. Secondly, if I miss and hit an innocent bystander, I am failing at my mission to protect and serve. Not to mention the liability involved. All LEO's carry a pistol on their person as a primary weapon. Most don't have a patrol rifle or shotgun assigned to them and if they do, they're not always readily available. A pistol or handgun is primarily a defensive weapon and is not the best weapon to take down threats as efficiently as would a long gun. They also are limited in magazine capacity even with hi-capacity magazines. This makes accuracy extremely crucial because it might take multiple rounds on target to effectively stop a threat. An officer doesn't choose when and where a gunfight is going to take place. This isn't the Wild West, there's no showdown at high noon in the middle of main street. With that in mind, the amount of stress will have an effect on the officer's performance. If they are well-trained, they'll probably fare better than an officer with less training. It makes sense right?
You'd be surprised on how many LEO's do not take their skills and weapon proficiency as seriously as I do.
I titled this post "Train Hard. Fight Easy (or Easier)" what I mean by this is that the more you train, the more effective you will be when the time chooses you. I also say easier because nothing is easy when you are fighting for your life.
I might be assigned as a Bailiff, and my chances of getting in a gunfight are much less than that of a patrol officer, but then again I don't get to choose when and where, therefore I'd better be damn good because I want to go home to my family.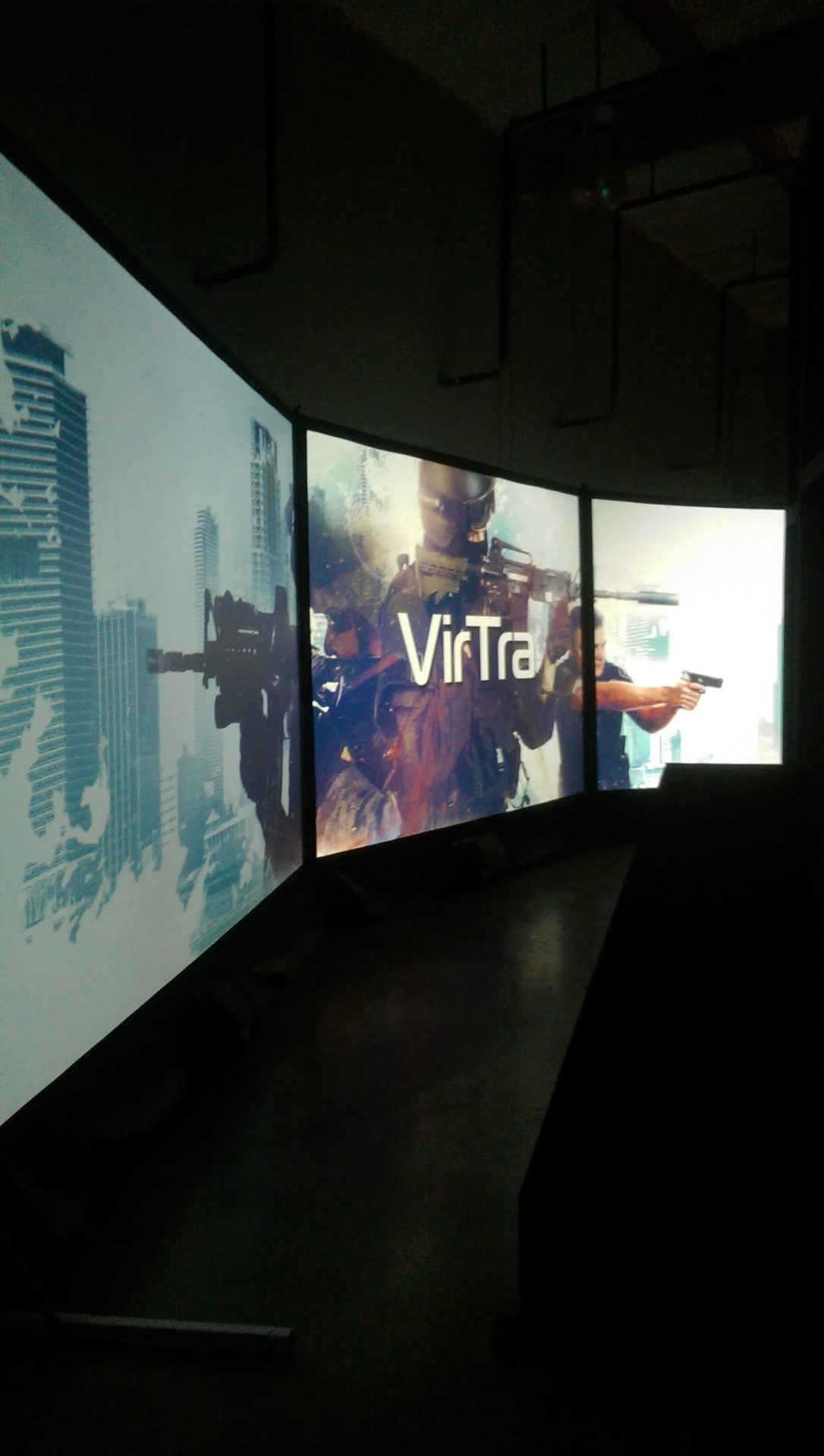 Onto the first field: Simulator Scenario training. My department sent me to Artemis Defense Institute for this training. They utilize the VirTra simulator system, which is light years ahead from the force simulators that I've gone through in the past. They have 100, 180 and 300 degree screens. What makes the VirTra system superior to the older simulators is that the graphics are in high definition, the wrap around 300° gives you a more realistic view of your surroundings and finally, the simulator weapons themselves are impressive. Gone are the DOA guns that were not realistic without any recoil. The simulator Glocks here have metal magazines that are filled with compressed air and have whatever amount of shots needed in each, requiring you to reload if necessary. The magazine cycles the pistol and gives the shooter a close representation of what the true felt recoil the real steel weapon has. What you can do safely in a simulator is that you can make shoot/don't shoot decisions without any safety equipment. At Artemis we were able to work on decision making, accuracy, shooting while moving and weapons manipulation. You definitely get the absolute most you can get out of a virtual simulator there at Artemis, but it's only one of three fields of training. For more information on Artemis, go to: http://www.artemisdefenseinstitute.com/
The second field of training is with the use of Simunitions. My department also sent me along with a lot of my partners to get Active Shooter training by members of our SWAT team. Simunitions are real weapons that were converted to be dedicated training weapons. They cannot fire a live round. They fire a 7mm paint projectile that are almost a $1 a round so it gets very expensive to run a class like this. Simunition rounds hurt when you get hit, especially at CQB ranges and when they're fired from a long gun. With them, you can have actual force on force scenarios where you are shooting at an actual live adversary or adversaries. The sim rounds for short, have limitations however, they are not very accurate and they don't have a lot of range. To be safe, there needs to be safety equipment worn and it is not natural when you have it all on. If the simulator didn't get your stress levels up (and it definitely does) training with sims will because you're getting actual shots fired at you and it stings when you're hit. We all learned some valuable skills individually and more importantly as a team. As realistic as sims are, nothing compares to actually shooting your real weapon, leading us to our final field:
Live Fire Training at the range. In my previous post, I did an AAR or After Action Report on Falcon Ops Group LEO/ MIL 1.5 Pistol Deployment Course that I took last week. I won't go in depth with how the course was here, you can read the AAR if you're interested. I've taken several classes with reputable trainers over the years and they all have taught me to be a better gunfighter. I'm always learning something new, improving my proficiency and highlighting areas where I need to work on to be better. Shooting live ammunition is the real test in accuracy while in the safest, controlled environment as you can be, while under the watchful eye of experienced instructors who can see what you are doing right or wrong. Every firearms class that I've attended focuses on the fundamentals of shooting. Without the fundamentals down, you're not going to be effective with anything else. If you're a good shooter already, it's a good refresher. Going to the range on your own time is good, but if you're going to an indoor or outdoor public ranges, you'll most likely will not be able to shoot from drawing from your holster and definitely not be shooting and moving because it's simply not safe to do so. In a course, you get to do all of that safely. You don't get to shoot steel targets unless you have your own. I like to shoot steel targets because you get a positive ding every time you get a round on target. It's fun and allows for students to go through without have to check the paper targets for hits after each run. It adds to some realism because the steel reacts by making a ding and in reality a threat will have some visual or auditory reaction when you have hits on target. At this course and the previous courses I've attended, I learned how to shoot my pistol accurately, shooting while moving, shooting in different positions, manipulate my pistol with reloads and clearing malfunctions. For more information on Falcon Ops Group, go to:
www.falconopsgroup.net
It's difficult to get time to train. I have a family to be with and I work Monday through Friday. The weekend is my family time. It's rare to get funding to go to training put on by the department so I always jump at any opportunity that arises. For the simunition training, I along with my partners had to sacrifice an entire weekend to attend that training. If you know me, you know that my family comes first and if I'm going to spend time away from them, it'd better be worth it. I can say it was all worth it because all of the training I received has made me as proficient as I am today and makes me and my partners safer every time I'm 10-8. Training doesn't have to be at certain facilities vor ranges. You can do a lot of it at home! Dry fire practice and movement drills can be done in your room or living room safely as long as you follow the gun safety rules. It only takes a few minutes a week to do this and it's very helpful. I call all the different skills, shooting positions and techniques tools that are in my toolbox. Will I ever need to shoot from the dynamic prone position? I don't know, but I sure know how! Knowing how to deal with a certain scenario before you have it happen in front of you is better than having to come up with a solution on the spot, so the more tools in your toolbox, the better off you are.